Doug Ward, the president and founding member of the Mission Peak Stridersm, started running in 1979 after a friend from Seattle came to visit him. His friend who is an avid runner asked him if he would like to join him during one of his runs. The two went running and ever since then Doug has been hooked on running.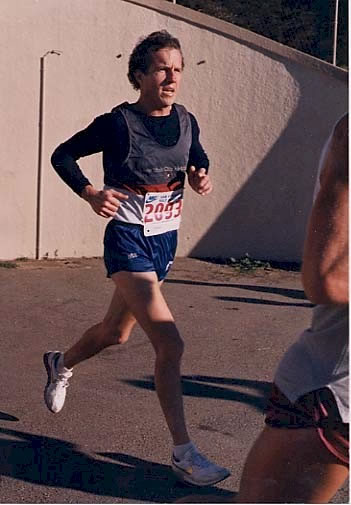 In the early 1980's Doug was a member of the Kimber tennis club in Fremont. A group of 8 to 10 runners would meet to do training runs each week. He joined the group and they soon became known as the "Kimber Runners". As Doug learned from the group and his enjoyment of running grew, he decided to open up a Fleet Feet running store at the Fremont Hub. Now know as the Fleet Feet runners, the running group competed in local races and put on running events.
Unfortunately, in the early 1990's the Fleet Feet running store closed it's doors but the running club continued. The club was called the Tri-city runners but the name was changed to the Mission Peak Striders in 1996 because a triathlon club already was using the Tri-city name.
Doug likes to run because of the social and physical fitness benefits. "When I'm running I tend to focus better and work better," Doug remarked. Running has taken Doug to many places he feels that he would never have gone otherwise. He has run in Germany and has run marathons in Boston and in New York. "It's a great hobby and I love the psychological lift I get from running."
Doug's most memorable run is the Avenue of the Giants Marathon in 1983 where he set a PR of 2:49. He was trying to qualify for the Boston marathon which was 2:50 at that time. "It was a magical race for me. I ran the first mile in 5:55 and I thought I would be in trouble. But at the 20 mile mark when I met my friend Tom Flanagan, who is a talented 3:10 marathoner, he had trouble keeping up with me. I had a great day and a great race." In addition to the Avenue of the Giants Marathon, Doug has run over 30 marathons including Boston, New York, and Honolulu. The Bridge to Bridge race in San Francisco is the race he feels he has run most out of all races.
Bill Rodgers is Doug's most admired runner. He feels Bill's running career is your classic rags to riches story. Doug mentions that Bill was a smoker, not a very healthy person before running, had a failed business and marriage but he managed to turn his life around to become one of the best runners of all time. Billy Mills is another runner that Doug most admires. Billy was the 10K Olympic champion in the 1968 Mexico Olympics. "No one expected Billy to win but he did even though he was 4th on the Olympic team as an alternate" recalls Doug. Doug met Billy in Sacramento in a race exposition several years ago.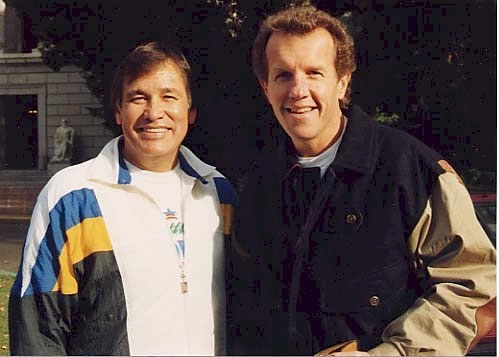 Doug feels that anybody who picks up the sport of running should run with a group, get a good pair of shoes and just stay with it. "When I started running I would look at other runners and think how do they run like that? I'll never be able to run as fast or as long as they do. But as time went on and I stuck with it I became just as good as they are." Doug plans to run his next marathon in 3:35 to qualify for the Boston Marathon as a 55 year old. We know with the tenacity and the passion for running that he'll be on the starting line of Boston Marathon come springtime. See you on the trails and roads Doug!